About Simon Moyes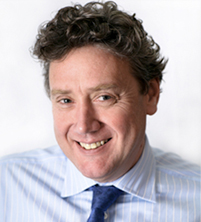 Education and Experience
Simon Moyes qualified in 1982 from The Middlesex Hospital. As a medical student it was always clear to him that he wanted to become a surgeon. His first house job was with Sir Rodney Sweetnam - the Queen's Orthopaedic Surgeon, at his teaching hospital. He then went on to Cambridge to do a Trauma rotation for a year before returning to London to study for his primary FRCS, the first part of the Fellowship of The Royal College of Surgeons.
In 1985 he commenced a surgical SHO rotation based at St Bartholomew's Hospital where he rotated through The National Hospital for Nervous Diseases, Queen Square, amongst other hospitals in central London. He then spent a year at Cheltenham General Hospital gaining valuable operative experience in general vascular and neurological surgery, and also passing his General Surgical Fellowship, the "FRCS" during his time there.
Mr Simon Moyes then returned to London to begin his specific orthopaedic surgical training at The Westminster Hospital as an Orthopaedic Surgical Registrar. After spending two years on this programme, he obtained a Senior Registrar's rotation out of The Royal National Orthopaedic Hospital commencing in 1989. He also won a research fellowship that allowed him to take six months out of his training programme at The Royal National Orthopaedic Hospital to work at the Clinical Research Centre in Northwick Park Hospital.
Whilst acting as Senior Registrar at The Royal National Orthopaedic Hospital, Mr Moyes was able to rotate through other centres of excellence, including Great Ormond Street Hospital and University College Hospital.
Mr Moyes was among the first Senior Registrars in the country to sit the New Specialist exit exam for orthopaedic surgeons, the intercollegiate FRCS Orth, which he passed in 1991. He then continued on rotation and gained a 12 month post as a lecturer in Orthopaedics at The Royal National Orthopaedic Hospital in 1992. During this time he also organised visiting fellowships in the Royal North Shore Hospital in Sydney and the Southern California Orthopaedic Institute in Los Angeles.
Recent Career
Simon Moyes took up a post of Consultant Orthopaedic Surgeon at UCL Hospitals, London in 1994 with a special interest in arthroscopic surgery in sports medicine. He went into full time private practice in 1997, which he continues today.
Mr Moyes consults out of The Wellington Hospital in St John's Wood, The City of London Medical Centre in the City and 30 Devonshire Street in the West End. This includes seven private clinics and two full operating lists per week.
Interests
Mr Moyes' main orthopaedic interests are of arthroscopic and minimally invasive treatment of problems of the knee, shoulder, foot and ankle. Current research interests are: development of minimally invasive and arthroscopic techniques for the knee, shoulder, foot and ankle.
During recent years Mr Moyes has been particularly interested in developing educational websites and indeed has developed this ankle arthroscopy website, also a shoulder arthroscopy website and will be developing a knee arthroscopy website in the near future. He also plans to develop a web based arthroscopic surgical atlas for ankle and shoulder arthroscopic surgery and is interested in the role of virtual reality surgery for surgical training in the future.
Links:
http://www.simonmoyes.com/
http://www.simon-moyes-medico-legal.com/
http://www.ankle-arthroscopy.co.uk/
http://www.shoulder-arthroscopy.co.uk/